The Sock Monkey Chronicles: Kip the Secret Agent
It seems that almost every week here in Monkeyville something strange happens! I think we get invaded by Ninjas more than a daimyo in fedual Japan. This week, there were no weird noises around Monkeyville (though it would have been hard to hear them over the Magic Monkey Maker). Instead, Saturday morning really, really weird things started to happen.
Out by the side of the house, the air went all shimmery. I thought for certain I was going to get abducted. Thankfully, no aliens showed up. When the air cleared, there was a sock monkey and a... well, one of those little wooden guys artists use sitting there next to the house.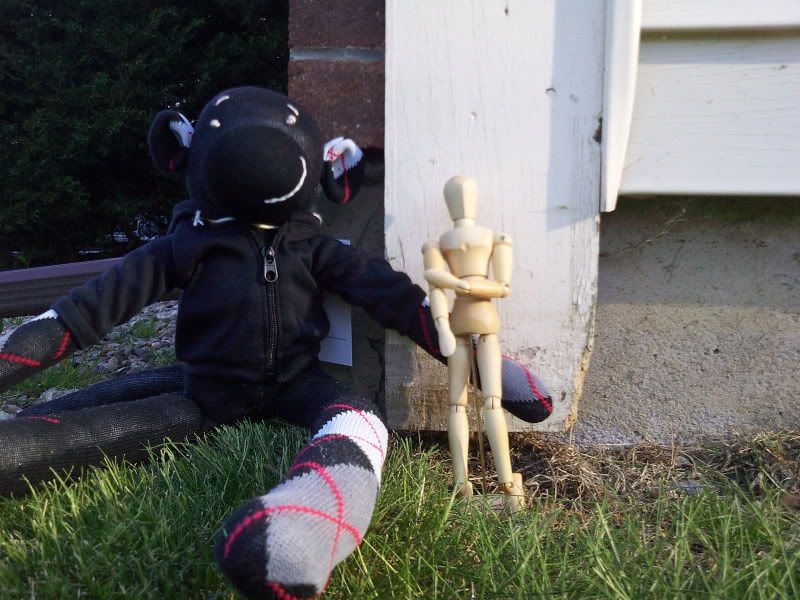 The monkey introduced himself as Kip and the little wooden guy saluted and Kip introduced him as Little Dude. I thought it was odd Little Dude didn't speak for himself, until I realized that he didn't have a mouth... or any other facial features.
"Um, okay, what are you guys doing here? What's with all the shimmery, fancy special effects?" I asked.
"You didn't get the report?" Kip responded. "It was sent to you at least a month ago, you should have known I was coming."
Report? I don't remember getting any report.... wait... no, that wasn't a "report." Confused, I followed along behind Kip and Little Dude as the raced out of the yard. I think Kip said something about having to save something, but I couldn't quite make it out.
They did a lot of running, jumping, and climbing fences.
Little Dude wasn't nearly as good at it as Kip. I think it has something to do with the fact that he has a big metal wire stuck up his bum. Most of this climbing was needless as there was a gate just two feet away, and it was wide open.
There was also a lot of posing to look cool.
Once again, Little Dude has issues. He's not nearly as flexible as Kip.
The sunshine was quite nice in Monkeyville this weekend, so Kip and Little Dude took a minute to enjoy it. I only had time to ask them why they were here, before they were off again.

"We have to stop everything from falling sideways." Kip said. "Don't worry, we know what we're doing."

Little Dude gave another salute, then the air went all shimmery and they were gone again.

I can't help but wonder who or what will invade Monkeyville next weekend!