This week, I finally got the letter from the IRS about the supposed $45 I owe them, so I can file the amended return. One problem, when reorganizing Monkeyville, I put the W-2's for 2009 where I wouldn't lose them. If you know me well, you're already shaking your head.
Of course, I wouldn't have put them in with the rest of the tax return stuff from previous years (though I did look). Nope, that would have made too much
sense
. So, this weekend I had to call in all of the sock monkeys to help me look.
There were only so many places these W-2's could be, so everyone set about looking.
Tobey (left) and Basil (right) checked the Monkeyville Files. Nope, not there.
Sirus checked his art supplies: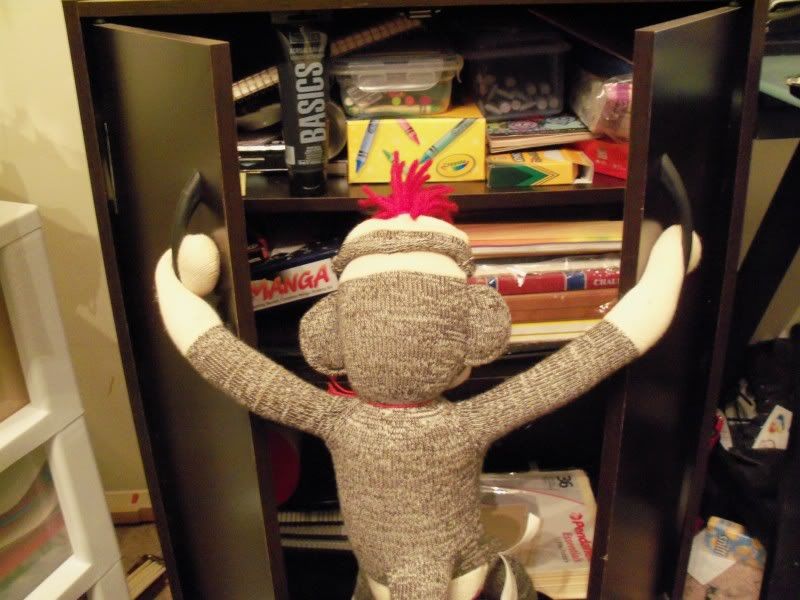 They didn't look like they were there.
Dorian checked the fabric bin... because you never know...
Nope, not there, but check out the cool book!
Gorilla checked the writing bin... at great risk to life and limb!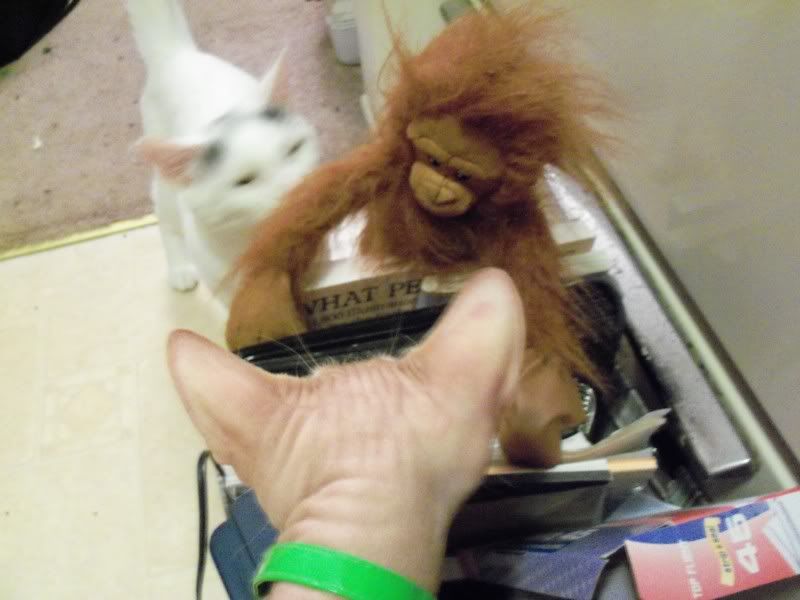 That bald kitty, he thinks Gorilla is tasty... and I just realized that it's actually an orangutan, not a gorilla. Oops.
Everyone had checked the desk numerous times, but Chloe Monkey tried again anyway.
Nope, no luck.
Wait a minute... Yorick, what's that?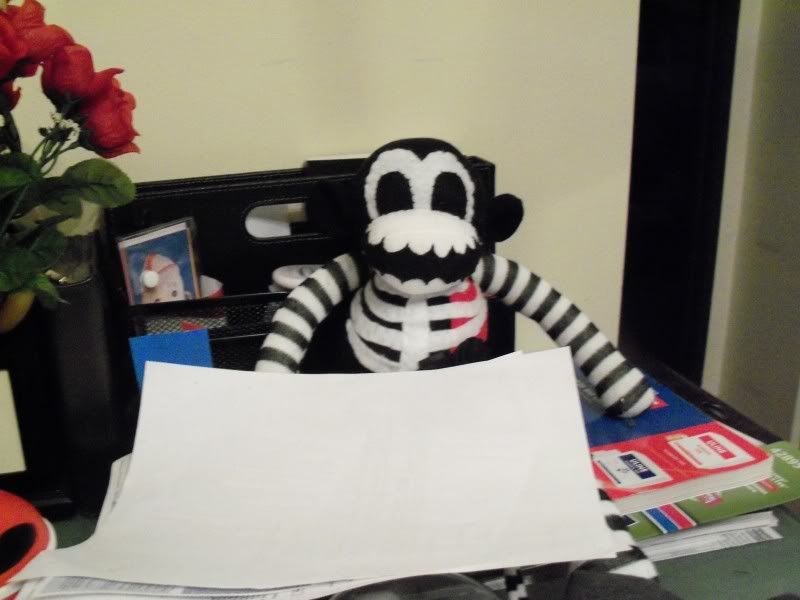 I don't remember those papers being there yesterday...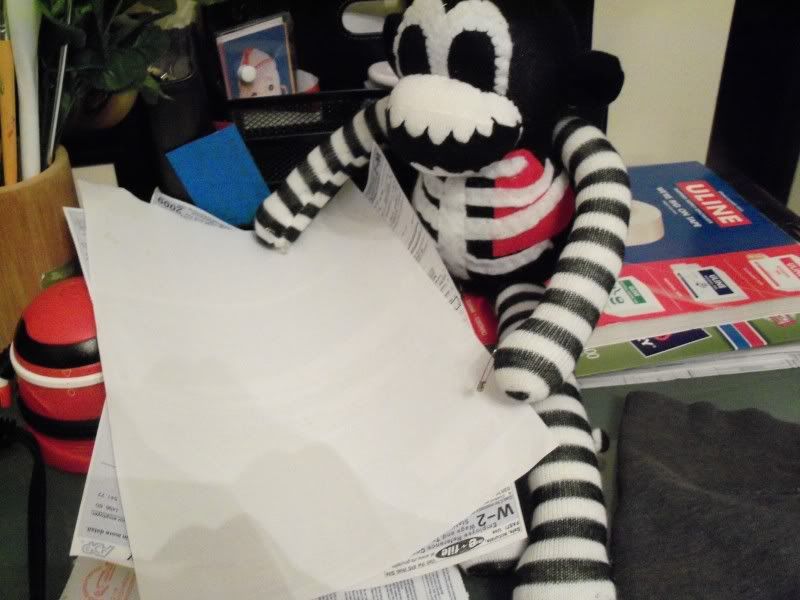 No way...
YAY!!! Now I can get my $1100 back from the IRS!!!
After the frantic search, Eli said he'd help with the clean up a bit, which is great, because I really needed someone to ball yarn.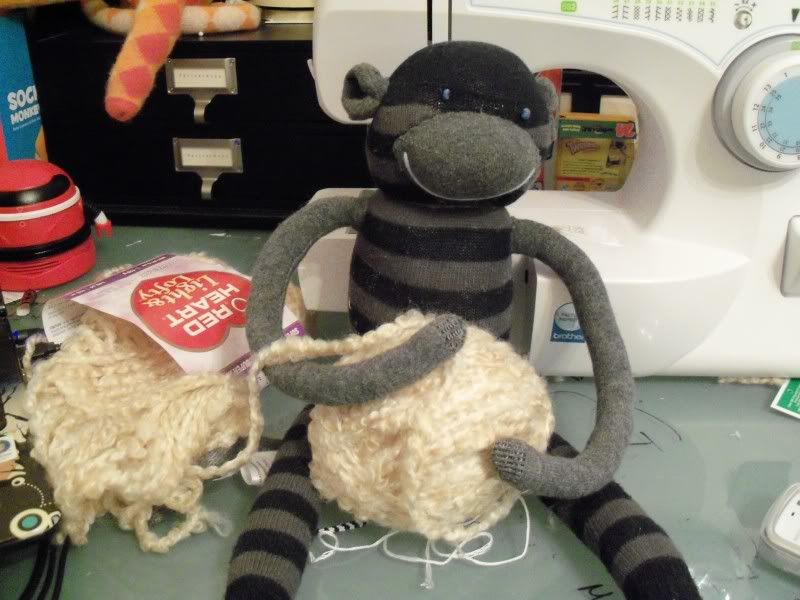 Also, I think he was a bit jealous that he wasn't getting enough camera time.
Things went well enough at first, but once the skein of yarn got close to the end...
I think part of the problem was the lack of fingers.
Sirus, like a good husband*, tried to come to the rescue.
I don't think he helped that much though.
However, they didn't seem to mind being all wrapped up together... at all...
Sigh, to be a newly wed again.
In other news, I finished this guy Thursday for a friend at work.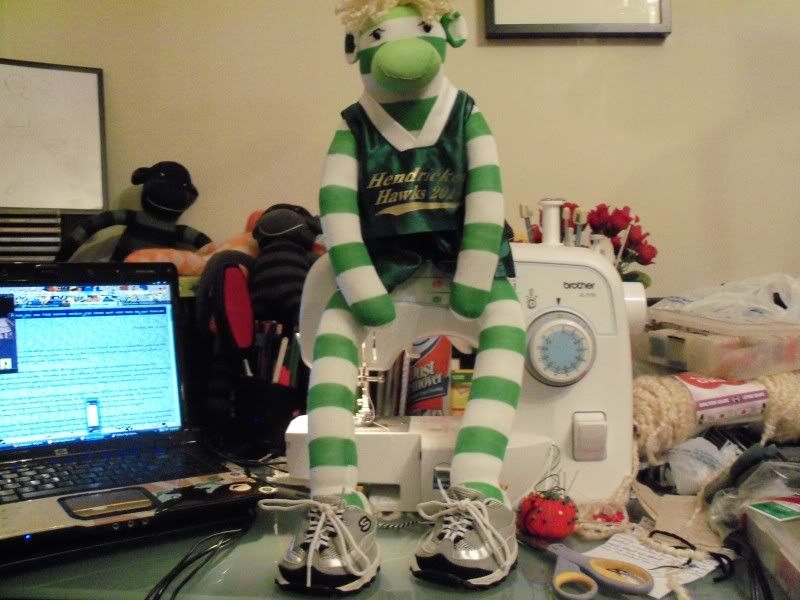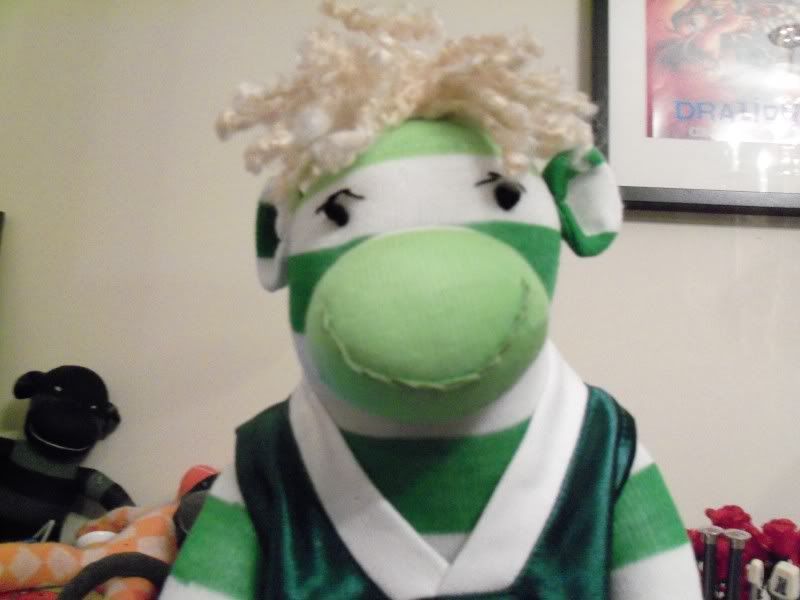 He's for her son's high school graduation. I didn't pick out the little clothes (I almost died from cuteness overload though!) and her son liked the monkey so much, he actually brought it with him to the graduation ceremony.
A teenage boy liked the monkey that much. I'm just in shock! Monkeyville is now officially cool!
Oh, and when I was talking about cutest wittle shoesies ever, look at these and tell me they're not freaking adorable!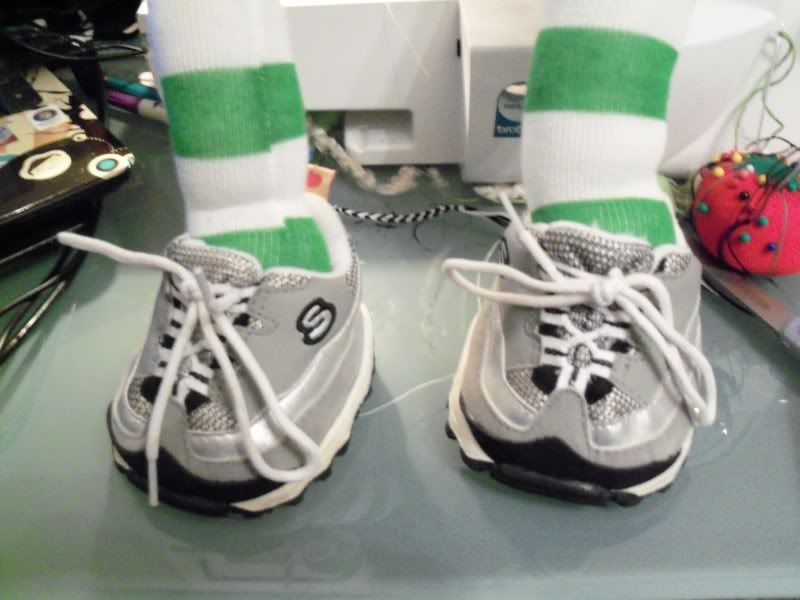 I did have to give him specially sized feet to fit the shoes, but it was so worth it!
*Sirus and Eli eloped. They are now Sirus and Eli Ryskamp-Monkey, because Sirus couldn't have the initials SAD. It just wouldn't work. There will be a story about that just as soon as it stops raining. Hey, it's legal here!